There's nothing like some good news to brighten up a rainy, chilly February day. Nick told me last night that our dearest Alex Vernon is coming down to ATL to visit this weekend--just in time to be the guest of honor at our WHO DAT Superbowl party!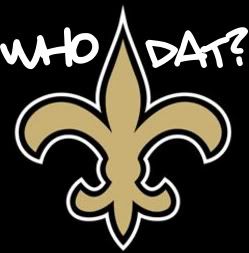 WHO DAT
If you don't know, now you know: Alex and Nick and I have been tight since we were kids. Like super-tight. Nick used to live about a mile away from me, and Alex would come to Nick's to sleep over all the time. After our parents were safely asleep, Nick and Alex would creep through the rural Tennessee night to my window. They found a way to climb up to my second story window, and they'd sneak in and watch horror movies with me until dawn. Often I didn't know they were coming until I saw one of them tumbling in my window.
We had strange ideas about having fun, the three of us. We had a few memorable drinking competitions (none of which involved alcohol); unsweetened cranberry juice and Diet Vernor's ginger ale from shot glasses, chased with water like it was tequila. Gluttons for punishment.
Speaking of masochism, my family's most treasured memory of Alex and Nick is of this night:
Franklin High School Homecoming
Fall 1997
L to R: Alex, me, Heather, Nick (my husband)

click here to view full size
Heather came over to my house after school that day to get ready for our first high school dance. My dress was green and satiny and seemed very grown-up to me. I coveted Heather's long stretchy purple velvet dress from Express and her long fingernails and her long long hair. Going to a high school dance seemed like a Big Deal. I thought it would probably be a lot like the movies. Y'know, synchronized dances and Usher DJing?
So we were in a 13-year-old-girl flurry of mascara and ripped pantyhouse and Bath and Body Works Sun-Ripened Raspberry Body Splash when the doorbell rang. Who was waiting on my doorstep but Alex and Nick?
To say I was horrified was an understatement. Heather was going to the dance with her long-time boyfriend Blaine, and I was going with my good friend Ben Osborn. Having Alex and Nick appear at my house did not compute. I gaped at them, and Heather stared down the stairs from the second floor.
Alex and Nick, it turned out, were not there to try to take us to the dance. Alex and Nick came by to help us get ready and take pictures with us, including the gem above. They told us we looked pretty and we laughed and blushed and loved every minute of it.
My dad drove us to the dance and Nick and Alex stayed at home with my mom and baked an apple cake. They
baked an apple cake.
Is that the sweetest, most wholesome thing you've ever heard?
Maybe the sweetest part is the follow up.
My mother and father threw an engagement party for me and Nick over the Thanksgiving holiday in 2008.
Nick asked Alex to be a groomsman in the wedding, and he came to the engagement party, as is evidenced in this photograph (including a highly unflattering shot of me):
L to R: Nick, Alex, me, TC
My mom had an incredible spread of desserts catered for the evening, and she baked an amazing torte:
...and conveniently obscured in this photograph? The apple cake she baked for Nick and Alex. Awwwwwwwwwwwwww The End!
We can't wait to see you, Alex!